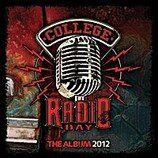 Music is not only an aesthetic case, important for our life, according to https://bestcustompapers.com/ music also performs a compensatory function, that is, it helps us forget unpleasant moments.
BUY THIS ALBUM HERE

"We simply asked bands and artists outright whether they would give us some music for free - to help college radio stations. Many of them simply said "yeah, OK then!" It was our first album and I am very proud of it." - Rob Quicke, Founder of College Radio Day Records and College Radio Day.
Released 10.02.12. Most of the tracks on our inaugural album are unreleased and therefore very special. Disc 1 features the best music performances in college radio stations across the USA (congratulations to those stations who submitted and were selected) and Disc 2 features many unreleased tracks from known artists who are publicly standing with college radio. The album features unreleased songs from The Civil Wars, We Are Scientists, The Front Bottoms, Blues Traveler, Umphrey's McGee, Delta Spirit and many more!
Reviews:
"Behind the Scenes: Top 5 Stories from the Making of College Radio Day Records' Albums"
"A wonderful testament to college radio" Amoeba.com
"An awesome collection of songs, many previously unreleased" Lamplighter NJ
"Go support this worthy cause immediately" IndieBandGuru.com


Digital edition available from: iTunes | Amazon | Amoeba | CDBaby

Limited Edition Double CD: $9.99 (plus S&H) while stocks last!