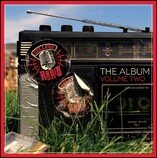 Stricly Limited Edition (only 1,500 copies ) Double CD now AVAILABLE here!

Now available digitally: iTunes, Amazon, CDBaby.

Top 10 Best Selling Adult Alternative album on Amazon
#2 in Hottest New Adult Alternative Releases on Amazon
Featured for 8 weeks as "New & Noteworthy" on iTunes
Picked as "New & Notable" by CDBaby
Passenger's 'Let Her Go (Acoustic)' only on the CD Version


For only the second time, student college radio DJs from across America release their College Radio Day Album (Vol. 2) on November 12 everywhere digitally plus a limited edition double CD of only 1,500 copies. The album, like its predecessor from 2012, will raise funds for college radio stations.
All the tracks on the double album are picked by students from college radio stations from around the nation. On the first disc are known artists that publically stand with college radio. On this year's album are Wilco, My Morning Jacket, Passenger (only on the physical disc), RNDM, Jukebox the Ghost, Lucius, Matt Pond, The Front Bottoms, Charlie Peacock and many more artists.

The second disc of the album houses artists that are typically unsigned but are captured playing college radio sessions in college radio stations around the country. Artists such as Apache 5, Crisscross Albatross, Charlie Patton's War, The Soft Pack and more have all been selected for the album for the brilliance and vibrancy of their live college radio performances.
All the proceeds from the album go to the College Radio Fund. This fund is to help radio stations that don't have much funding to keep going with things they need like equipment, paying licensing costs, etc. They will essentially be able to write a request for funds from the CRF to help them out.
Every single track on this album is previously unreleased.